What We Value
The Delek difference is our people, and our Core Values they exemplify. What sets Delek apart is our unwavering commitment to attract and hire the most talented people the market has to offer, both from inside and outside of our immediate industry. Surrounding ourselves with high-caliber, performance-driven talent brings out the best in all of us. As a result of the passion and hard work of our people, Delek continues to grow, achieve milestones, and maximize value for our employees, customers, shareholders, and communities we serve. With more than 3,500 employees in nine states, our ability to hire the right people and build our diverse team has served us well, resulting in an impressive record of consistent growth and profitability.
Our Core Values are the most fundamental pieces of our business and critical to our shared success. Right away visitors notice our focus on personal safety, environmental safety standards, and safe operations are an integral part of our vocabulary and daily discipline.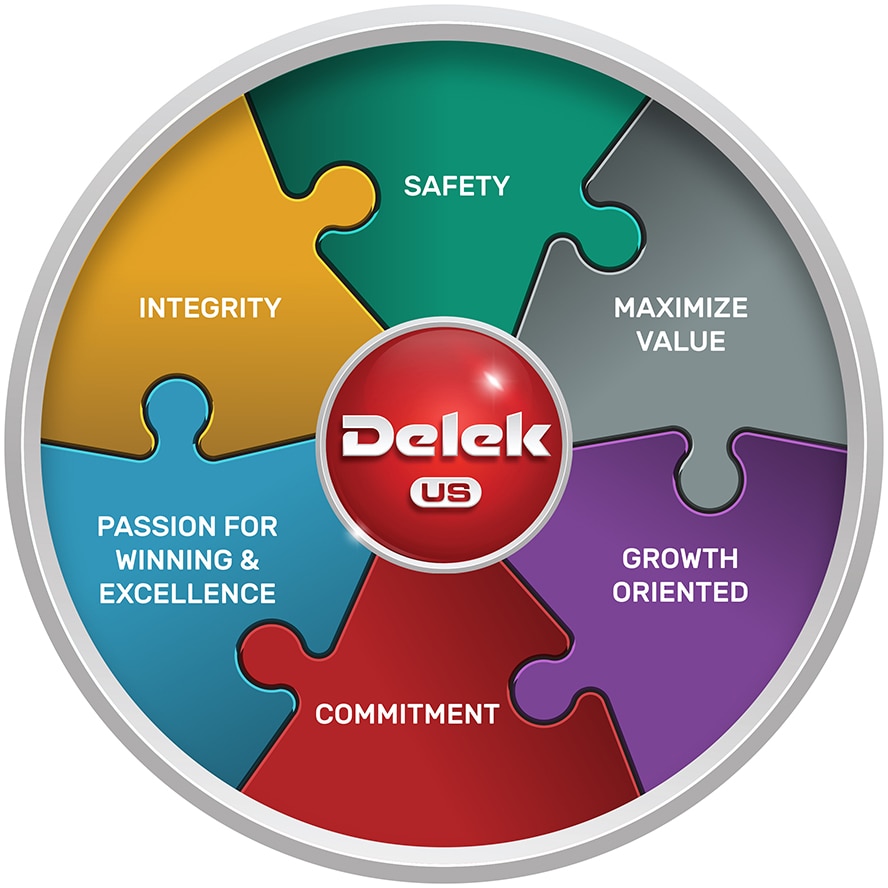 Safety - We ensure the health and safety of our employees and the communities in which we operate, while going beyond the legal requirements to provide an accident-free workspace.

Integrity - We act with honesty and honor without compromising the truth.

Maximizing Value - We operate with intention and recognize that the ultimate measure of a company's success is the extent to which it enriches employees, customers, and shareholders.

Growth Oriented - We assume new responsibilities to position the organization and its employees to achieve new heights.

Passion for Winning & Excellence - We have an intense desire to go beyond what is expected and take great pride in achieving exceptional outcomes.

Commitment - We are committed to our employees, the environment, and communities in which we operate while delivering great products, services, and other initiatives that impact lives within and outside the organization.


The Delek Fund for Hope
Delek's commitment to the environment and communities where we operate, is surpassed only by our dedication to support our employees and the causes and organizations they care about, in the neighborhoods where they live and work.

Delek and our employees deliver hope, when hope is needed, through the Delek Fund for Hope. Since 2008, this signature program has supported more than 2,000 501(c)3 charitable organizations with volunteer hours, and awarded more than $14 million in grants to impact community-based programs and events. Employee-run committees at each work location receive requests and determine how locally raised funds will be shared in their own community.

The Delek Fund for Hope is administered by the Community Foundation of Middle Tennessee, who ensures full transparency and proper handling of funds. More information about the Delek Fund for Hope can be found at DelekHope.com.